With a lifetime spent studying the graphic arts, printing, and advertising industries that began as an apprentice designer in his father's graphic design workshop in Mobile, AL, Dale Diemert has well over 30 years experience as a graphic designer and document project manager for print, outdoor, and online media. Although Dale is an experienced technical illustrator and his preferred project will center around creative illustration, he is completely comfortable and proficient with creating, writing, editing, and managing technical publications from start to finish. Dale is also fully capable of providing Search Engine Optimization (SEO) and offers full-service web hosting and email services from his studio in Houston, Texas.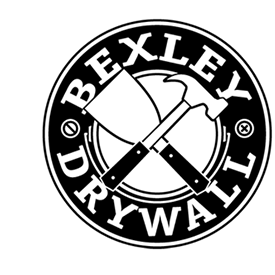 In addition to original architectural illustration, technical illustration, and creative illustration, Dale also uses his graphic design skills for logo creation like this gem he designed for Bexley Drywall in Mobile, Alabama A personal favorite, this design uses the tools of the drywall trade including a bucket of mud.
Dale has a thorough command of all the major desktop publishing programs, including Quark, Illustrator, PhotoShop, InDesign, and was an Adobe Certified Expert with Pagemaker 6.5. Microsoft Office is another software package Dale is proficient with, including Visio. He even has his own stand-alone, cross-platform licenses for the above named software and the hardware to run it. Dale worked as a Graphic Design Consultant with The Creative Group in Houston, TX from 2001-2010 and began freelancing his graphic design and illustration skills from Mobile, AL in 1998. He uses his talent as a creative artist and his aptitude for organization to make every piece he works on as easy to read as it is to remember. Couple that with Dale's finely tuned SEO skills and your web site will not only be found quickly, it will be looking good when it is.
Dale can be trusted to manage multiple and deadline sensitive projects from initial concept to final delivery, whether the end result will end up online, on paper or on a billboard the size of a bus - you can rely on Dale to get the job done with the results you need.
To see more samples of Dale's quality logos creations, graphic design and technical publications work, click on his Portfolio link.
All images and content copyright © 2000-2015 Dale's Graphic Design, Houston, TX, USA